XIAOMI'S MI 10 AND REDMI K30 SERIES ARE AMONG THE FIRST SMARTPHONES TO FEATURE QUALCOMM SNAPDRAGON 865 AND 765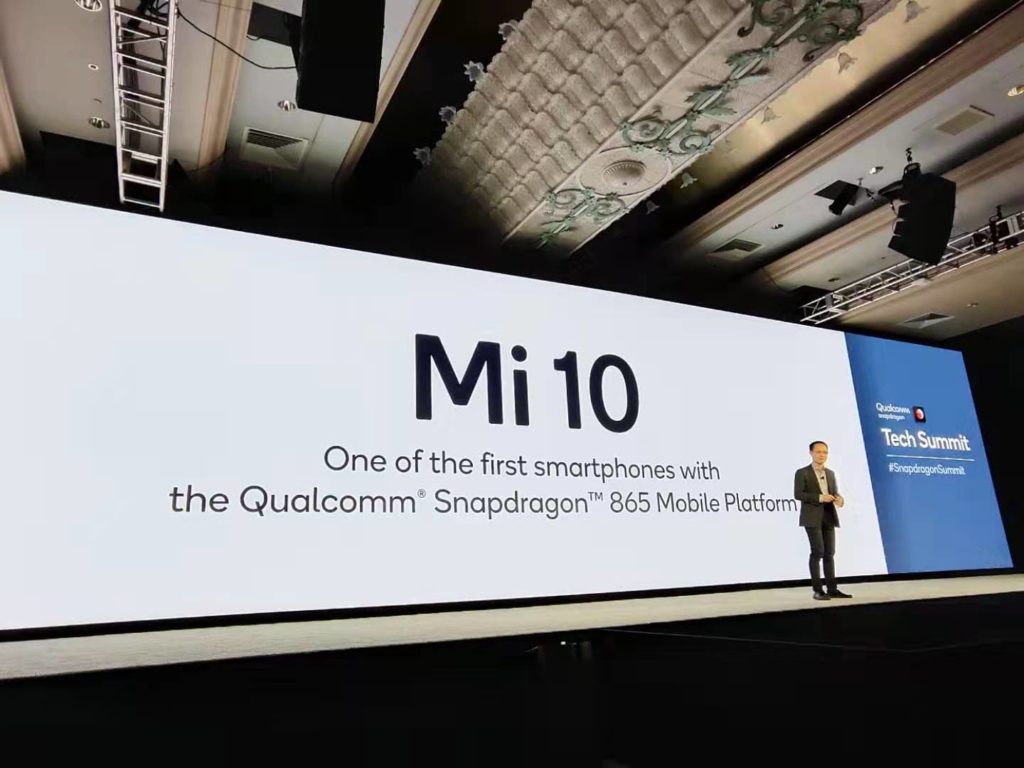 Beijing, CHINA, December 4, 2019 – Today Qualcomm Technologies, Inc. announced its two latest 5G mobile platforms – the Qualcomm Snapdragon™ 865 and 765 – at the annual Qualcomm Snapdragon Tech Summit 2019 in Hawaii. Also at the summit, Lin Bin – Co-Founder and Vice Chairman of the Board, Xiaomi Corporation, announced that Xiaomi's Mi 10 will be one of the first flagship smartphones to utilize the Snapdragon™ 865. Simultaneously, Xiaomi's Redmi brand general manager Lu Weibing also announced the Redmi K30 smartphone series will be one of the first to feature. Combined, these announcements highlight how Xiaomi is leading the way forward with adopting cutting-edge 5G technologies. 
Snapdragon 865: 5G flagship of 2020
Mi 10 as one of the first flagship phones to utilize the new mobile platform
On the first day of the summit, Qualcomm's President Cristiano Amon announced that 5G will become widespread in 2020, allowing more consumers worldwide to enjoy 5G multi-gigabit connectivity speeds. As the latest product from Qualcomm Technologies' flagship 8-series mobile platform sets the standard for performance and user experience of the upcoming generation of flagship smartphones.
Following this, Xiaomi's Lin Bin immediately announced that the Xiaomi's next flagship, Mi 10, will be released in the first quarter of next year. As the flagship product celebrates its tenth anniversary of Xiaomi, it is one of the first smartphones to feature the Snapdragon 865 Mobile Platform. 
"The 5G era opens up new opportunities and challenges. It brings great innovations and redefines how users interact with devices, audio, and video applications. The next generation of "Super Internet" will be an all-new model that combines 5G + AI + IoT." Lin Bin commented. "Xiaomi will fully promote the development and promotion of 5G mobile phones, and will be launching more than 10 5G-enabled mobile phones in 2020."
Previously, Xiaomi CEO Lei Jun announced that Xiaomi's 5G future smart factory is almost completed and will start production at the end of December. This Xiaomi "Future Factory" will use technologies such as automated production lines, 5G networks, robots, big data, and cloud service platforms on a large scale. It is expected that 60 high-end smartphones will be produced per minute, boasting an efficiency increase of more than 60% compared to traditional factories.
Snapdragon 765: Integrated SA / NSA dual mode 5G
Redmi K30 among the first to launch on December 10
As one of Xiaomi's two brands, Redmi will be one of the first mobile phone brands to utilize Qualcomm Technologies' new 5G Snapdragon 765 with integrated 5G, and will officially release the Redmi K30 series featuring Snapdragon 765 on December 10.
Previously, Lu Weibing, general manager of the Redmi brand, stated that Redmi's positioning as a "5G trendsetter" in 2020 means that Redmi will be the first to adopt the latest 5G technology, the most aggressive product features and the fastest new product release schedule, so that more users can enjoy the benefits of 5G.
As Qualcomm Technologies has just released the Snapdragon 765 mobile platform on December 3, Redmi will launch a new 5G phone – Redmi K30 within a week. To launch this in such a short time frame is an achievement rare to find across the history of Qualcomm Technologies' new flagship products. This highlights the strength of the cooperative relationship between Redmi and Qualcomm Technologies, which is unparalleled and is also a reflection of both companies' dedication to being pioneers of 5G technologies. 
The Redmi K30 series will be equipped with a Qualcomm Snapdragon 765G Mobile Platform. "G" stands for Gaming, which is a high-performance version of the Snapdragon 765 series. The Qualcomm Snapdragon 765 series uses Qualcomm Technologies' latest generation 5G solution, integrating SA and NSA dual-mode, and is also Qualcomm Technologies' first integrated 5G processor.
In terms of product design, Redmi K30 features a Dual DotDisplay with ultra-small punch-hole design that enables a fullscreen experience. 
Xiaomi-Redmi dual global debut
One of most valued collaborators of Qualcomm Technologies
Looking back over the relationship between Qualcomm Technologies and Xiaomi, it's easy to see that every generation of Xiaomi's Mi digit-series smartphones have adopted Qualcomm Technologies' flagship mobile platform. For example, Mi MIX 2S was one of the first smartphones to carry Snapdragon 845, Mi 9 debuted with Snapdragon 855 and the upcoming Mi 10 is expected to be one of the first to adopt Snapdragon 865.  
At the Qualcomm Snapdragon Tech Summit, Xiaomi's Lin Bin stated that the Qualcomm Technologies and Xiaomi collaboration is unrivaled, with the total number of Xiaomi smartphones using Qualcomm mobile platforms exceeding 427 million.
Qualcomm Snapdragon is a product of Qualcomm Technologies, Inc. and/or its subsidiaries.
***
About Xiaomi Corporation
Xiaomi Corporation was founded in April 2010 and listed on the Main Board of the Hong Kong Stock Exchange on July 9, 2018 (1810.HK). Xiaomi is an internet company with smartphones and smart hardware connected by an IoT platform at its core.
With the vision of being friends with its users and being the "coolest company" in the hearts of its users, Xiaomi is committed to continuous innovation, with an unwavering focus on quality and efficiency. The company relentlessly builds amazing products with honest prices to let everyone in the world enjoy a better life through innovative technology.
Xiaomi is currently the world's fourth-largest smartphone brand, and has established the world's leading consumer IoT platform, with more than 213 million smart devices (excluding smartphones and laptops) connected to its platform. Currently, Xiaomi products are present in more than 90 countries and regions around the world and have a leading foothold in many of them.
In July 2019, the company made the Fortune Global 500 list for the first time, ranking 468th among all, and 7th among internet companies. Xiaomi is the youngest company on the 2019 Fortune Global 500 list.